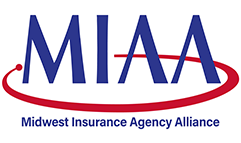 MIAA Leadership Virtual Conference 2021
Learn. Collaborate. Network. Grow.
The MIAA Leadership Virtual Conference reimagines our annual live event and takes the entire program online. Join us for an afternoon of connection, collaboration, and partnership, all topped off with some mystical fun! In this free virtual event, you'll gain the actionable insights, digital tools, and strategic best practices you need to make an impact in 2021 and beyond.
What to Expect
Jam-packed agenda. Hear from numerous industry experts, including a fresh panel of member agents sharing innovative approaches to agency profitability.
Keynote address. Joan Woodward, Executive Vice President of Public Policy at Travelers, will give an update on her economic outlook and public policy issues facing the new Administration.
Endless online networking opportunities. Connect with attendees in a myriad of virtual spaces such as trade show, discussion boards, social groups, and meet-ups.
Awards ceremony. We recognize MIAA's time-honored and star member agencies.
Virtual entertainment. A truly unique and unforgettable experience with The Magic of Coby.