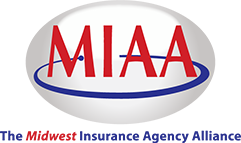 About Our Insurance Agency Group
Midwest Insurance Agency Alliance (MIAA) is a division of Strategic Independent Agents Alliance (SIAA), a highly successful independent insurance agency group for insurance agents, insurance carriers, and insureds.  SIAA is not an insurance aggregator, insurance franchise, insurance huddle, insurance brokerage or one of the many insurance clusters.  SIAA is a national insurance agency alliance of completely independent insurance agencies. SIAA obtains more carrier appointments, higher commissions, improved bonus structures and insurance resources for its member agencies.
MIAA was formed by All American Insurance, Inc. in 2001, as a Master Agency for SIAA in the states of SD, NE, IA, KS, MO, ND & MN. The SIAA concept originated in New England in 1983 where many local insurance agencies were finding it difficult to receive carrier appointments, start a new insurance agency, compete against larger insurance agencies, receive profit sharing and survive.
SIAA is designed for insurance agents at all stages. Ever wondered how to be your own independent insurance agent? SIAA will help direct writers/captives, producers and life/financial agents start their new independent insurance agency without the difficulties that often halt a new independent insurance agent from succeeding. SIAA also helps smaller insurance agencies grow and prosper, and increases commission and profit sharing levels for larger agencies.
SIAA's insurance agency group now operates in 48 U.S. states and Canada, produces over $5,500,000,000 in premium and has well over 5,000 member agencies nationally.
As an MIAA Member Agency You Will:
Become instantly BIG!

Access additional carriers by direct appointment, sub-code and AccessPlus!

Gain access to Alliance Program Services for SIAA specialty program markets!

Receive profit sharing from partnership carriers with no minimum volume!

Receive consultation, discounts & guidance on agency automation services!

Receive the benefits of our negotiation on your behalf for preferred carrier contracts and overrides!

Have more time for selling!

Attract quality producers!

Receive placement assistance for large insurance accounts!

Have MIAA as a continuing resource!
And Much More !

All While Remaining COMPLETELY INDEPENDENT!